On Day 3 of CoinGeek New York, Stephen Stonberg, CEO of Bittrex Global, joined us to talk about digital currency as a tool for financial inclusion.
Financial inclusion, banking for the unbanked and the democratization of finance are hot topics in the digital currency industry. However, all too often, these healthy and beneficial use cases are overlooked in favor of worthless token price speculation and get-rich-quick schemes.
Stonberg gave a 15-minute presentation highlighting how the digital currency industry, including the BSV blockchain, can help transform the world in a positive way.
Some facts and statistics on financial inclusion
In his opening remarks, Stonberg gave some revealing facts about the state of the current financial system with respect to inclusion. He informed us that:
One in three adults is unbanked in the world.
22% of Americans are either unbanked or underbanked.
Three billion people had no financial safety net during the pandemic.
These facts come from credible economic sources like the World Bank and the Federal Reserve, so they can be taken at face value to some extent. They don't paint a pretty picture of things as they are, with nearly 2 billion adults around the world excluded to varying degrees from the old financial system.
Stonberg believes that technology, including digital currencies like Bitcoin, can play a role in bridging the gap, bringing these people into a new financial system that is easier to access and more inclusive.
What are the answers to the problem of financial inclusion?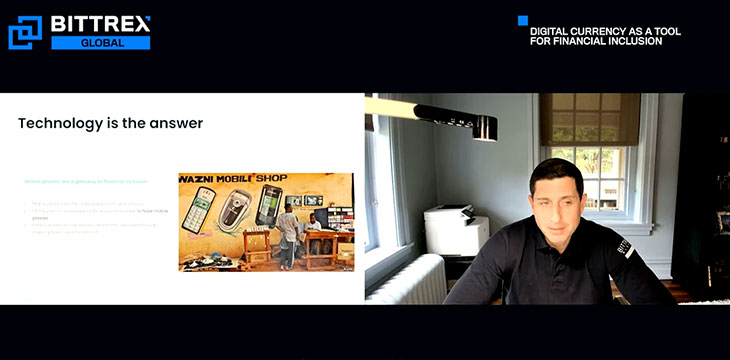 During the remainder of his presentation, Stonberg then presented an optimistic view of the future and how blockchain technology and digital currencies can play a role in transforming the world for the better.
Technology – He explained how the M-Pesa system in Kenya had given millions of people with only cell phones a chance to earn, save and pay for things with an innovative mobile money system. Essentially, many people in Kenya have switched directly to mobile money, skipping the traditional banking system almost entirely. It shows how basic technologies like cell phones, already available to two-thirds of the world's two billion unbanked adults, can play a role in the pursuit of financial inclusion.
Digital vscurrencies – Blockchain technology and digital currencies can play a role in supporting financial inclusion. Stonberg noted that the adoption of digital currencies is actually higher in countries where it is a more pronounced problem. He gave the example of Nigeria, noting that one in three Nigerian adults regularly use digital currencies in everyday life. He also noted how digital currencies can act as an alternative to national currencies, which are often degraded by central banks on a whim, a point made by Satoshi Nakamoto himself in the early days of Bitcoin. He gave the example of Nigeria, where in 2018 alone, the central bank printed so much money that the bolivar lost 95% of its value.
Challenge – At CoinGeek, we've made no secret of the fact that we believe DeFi is full of scams and most of them aren't legal or legitimate. However, it is important not to throw out the baby with the bathwater, and DeFi can, when properly regulated, facilitate access to short-term loans and microfinance in developing countries. Over time, with proper KYC checks, perhaps tied to digital identities, DeFi can even play a role in helping people build credit scores and financial reputations. Given that the total DeFi market has grown from $ 1 billion to over $ 85 billion in just over a year, it's clear that there is real demand for it.
Peer-to-peer technology – Satoshi Nakamoto called Bitcoin a "peer-to-peer electronic payment system". At CoinGeek, this is the fundamental thing we believe in. Like Stonberg, we want to see Bitcoin being used by billions of people as a digital currency. In the presentation, he noted how Bitcoin and digital currencies can weed out greedy middlemen who often take huge percentages of the world's poorest people in remittance markets. This way, it can make sending and receiving funds much easier, and it can keep the money in its place, in the pockets of the people who earned it.
How BSV can play a role in financial inclusion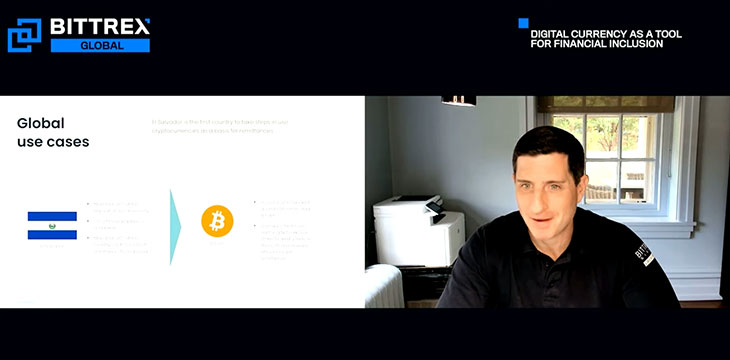 BitcoinSV does not have serious blockchain competitors. When it comes to scalability and low fees, the data speaks for itself. BSV processes millions of transactions every day with a median fee of $ 0.001.
While other blockchains have fees that skyrocket into the hundreds of dollars when demand is high, making them totally unsuitable for being part of a new system built on financial inclusion, BSV is ready to play. its role today. It won't scale in 18 months with layer two solutions, because it's expanding to over 50,000 transactions per second now, and its fees are actually going down as demand increases.
Now let's build tools to promote financial inclusion
While there are many points that participants in the digital currency space disagree on, one thing we can all agree on is that financial inclusion is a lofty goal that deserves to be continued.
So let's build, build and build to serve the people who need these services most. If your goal is to use scalable applications at a low cost, then BSV is worth a look.
Watch CoinGeek New York 2021 Day 3 here:
New to Bitcoin? Discover CoinGeek Bitcoin for beginners section, the ultimate resource guide to learning more about Bitcoin – as originally envisioned by Satoshi Nakamoto – and blockchain.